What is the view of the German chambers on the possibilities of stays abroad in vocational education and training? The German partner in the ENNE team, Wisamar, enquired.
In your opinion, what is the benefit for companies to allow trainees and staff to spend time abroad? What support do the relevant chambers offer in this respect? And what possibilities and necessities do you see to make mobility more known and attractive? These are some of the questions Wisamar asked to actors in German chambers of industry and commerce, crafts and agriculture.
In Germany today, there are many apprenticeships, but not enough young people who want to take them. Chambers and companies are trying in many ways to make vocational training more attractive. One possibility are internships abroad: "Offering a stay abroad during training", according to the representative of a Southern German Chamber of Industry and Commerce, "serves as a wonderful tool for trainee recruiting".  Such an offer would go beyond what has been "normal" up to now and could counteract the lack of qualified personnel, emphasizes the representative of a North German Chamber of Crafts. It can be used, according to her colleague from the northeast of Germany, "to position itself as a training company with that certain something," makes the company more attractive for young talents and helps to retain qualified employees. Some chambers actively support this and, for example, award seals to those companies that send their trainees abroad or take on trainees from other countries.
International positioning
Many companies, including small and medium-sized ones, want to position themselves more strongly internationally. They need, the representative of a Chamber of Crafts in West Germany continues, open apprentices and future employees who are also willing to work abroad for a certain period of time. Other companies see foreign mobility as an additional qualification for their trainees or want to gain an insight into the vocational training system or working practices of another country through their trainees. The reasons for companies to support mobility measures are extremely diverse. Many companies that were convinced and once started to send their apprentices continue to do so with future apprentices, several chamber representatives report.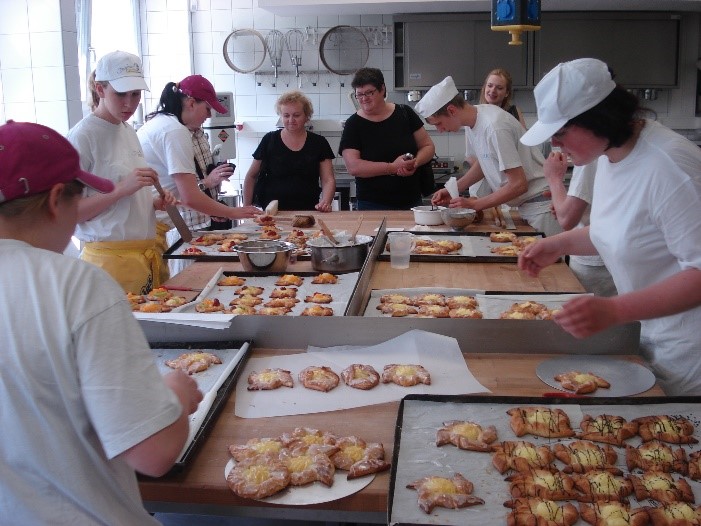 Using internships abroad: as motivation incentives and for practical insights
The ideal enterprise includes a stay abroad as obligatory or optional option in the training plan, so the representative of a Chamber of Industry and Commerce in northeast Germany. Companies use mobility as an incentive for trainees, for example, if the results of intermediate examinations are good or if a positive development has taken place. The representative of a West German Chamber of Crafts expands on this idea: "It is precisely this aspect that can also be advantageous for companies: to (re)motivate employees through stays abroad".
Other companies have subsidiaries, partners or suppliers in other countries or export their products there. In these cases, the companies are also very interested in sending their trainees there: they know the companies where the trainees will do their internship and the circumstances. They also have the certainty that this company is well suited for the trainees. For example, the representative of a Chamber of Industry and Commerce in the northeast of Germany reports about a manufacturer of medical technology who sent the trainee to a hospital in Great Britain, a major customer of the company: "There the apprentice was able to see directly where and how the technology is used in practice." Another good example is told by a representative from a Chamber of Crafts: A bakery expanded its product range with a German-Spanish bread after the trainee had been in Spain for an internship.
But, as her colleague from a North German Chamber of Crafts notices, not all companies use it so strategically and do not spread this opportunity enough to make themselves more attractive for young people.
VET students and teachers go abroad together
One good practice, which was mentioned several times during the interviews, was the organization of short-term staff mobilities during the trainees' stays abroad. In this way, the teachers, trainers or instructors of the companies are given the opportunity to be introduced to the vocational training system of the other country and to see where their protégés work. They also come into contact with other teachers and trainers and can discuss topics such as employee motivation or the shortage of skilled workers. In this way, they can compare the different systems and learn about the similarities. After these staff mobilities, companies are often more open to send their future trainees abroad, to accept foreign trainees in their own company or to be available for events with first-hand experience reports.
Demand: Establish networks in Europe
Several of the interview partners refer to the "Training without Borders" network that exists in Germany, which consists of mobility coaches who are mainly based in chambers of industry and commerce and chambers of crafts. They advise and support VET students, schools and companies during internships abroad. They offer their support not only within the framework of the Erasmus+ program, but also in other programs, such as the national German program "Vocational Training Worldwide", which supports internships outside the EU. Some of the institutions in which mobility coaches are based apply independently for funding for mobility projects. Others see their role exclusively in providing information and advice. The chamber representatives agree that this network is very useful and helpful. Some consider it desirable that similar structures be created in other European countries as well. Similar networks with a national coordinating body in other countries would be helpful, according to the representative of a North German Chamber of Commerce, to act as a "hub" to mediate and make more transparent who is active in mobility matters in that country. His colleague from a West German Chamber of Crafts puts it in a nutshell: "A nationwide network of mobility coaches would facilitate many processes. One would also have equally qualified personnel familiar with mobility in vocational training and can apply it to the legal conditions of the respective target country". The representative of a North German Chamber goes one step further and calls for a Europe-wide network.
From flyers to TV spots – creating publicity
What are the chambers doing to spread the possibilities of a mobility stay abroad within vocational education and training? The approaches are very diverse. A Chamber of Crafts in Northern Germany distributes flyers to all prospective trainees for whom it is responsible, with information about the possibilities of a stay abroad for an internship. This information includes rights and obligations for both the trainees and the companies. The company must always agree. This is why other chambers start with the companies, because they also want to be involved from the beginning. Some, for example, have vocational training advisors who regularly visit the companies providing training. This enables them to inform the companies directly about the mobility opportunities for their trainees or also for the trainers. In the German craft trades sector, information is also available at master schools and master classes, where chamber representatives meet "the trainers of the future", as one East German Chamber employee put it.
In addition, the Chambers use a wide range of dissemination channels for the opportunities for stays abroad, from press releases to a wide variety of events (e.g. education fairs, open days at vocational schools, their own information events, guild meetings, entrepreneur breakfasts to promote exchange, plenary meetings of the Chambers, meetings of the examination and vocational training committees at the Chambers, etc.) and social media channels. The representative of a West German Chamber of Crafts believes that the press is often more interested when they are contacted directly by a company that has sent a trainee abroad. The representative of an East German Chamber of Crafts also considers that own concrete and direct experience is one of the most convincing arguments: "It is important to use those who have experienced it themselves as multipliers, i.e. to let the participants speak".
Asked about ideas on how to make stays abroad in vocational training even better known, various chamber representatives spoke out in favor of broad-based campaigns. For example, a Chamber of Crafts employee from northern Germany explains that she repeatedly encounters very general reservations: One must have a lot of money, in order to go abroad. That's only for people who are great at school. Or Erasmus is only for students anyway. Or on the part of the companies: "We don't need such nonsense, why should I pay the trainee for an extra vacation?" Therefore, the representative of a West German Chamber demands "large-scale campaigns – not only specifically for the target groups, but for the entire population. Politicians must also be better informed." The representative of another West German Chamber of Crafts suggests nationwide advertising in TV and cinema spots.