The project year is coming to an end – a good time to look back and ask the German participants in the blended course what they got out of it and what they took away from it … into their work, into their institutions and into the new year.
We asked the participants some questions about their impressions, experiences and insights. Read a selection of the answers here:
What did you gain from the course?
I was able to take away a lot, because the topic of application is always extensive and very time-consuming, especially if you are new to it.
It was very exciting to learn more about the possibilities of international projects and to deepen my knowledge.
I found the participation in the course very interesting because on the one hand it helped me to establish new partnerships and on the other hand I was able to learn more about KA2 projects and the entire application process.
What concrete suggestions did you take away from your work and your institution?
I benefited a lot from the exchange.
I think we will launch some projects in the hotel and catering sector in the future
I had never worked with some of the digital tools and platforms (Basecamp) before. That was exciting.
You participated in the workshop in Foligno, Italy. In one sentence: How was it?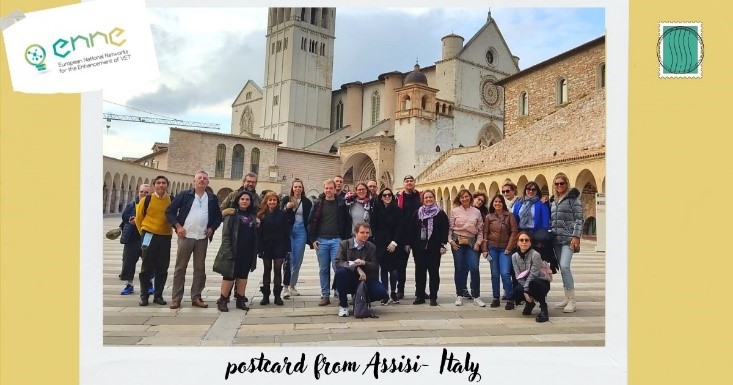 Lots of information about KA2 projects and new contacts.
Very constructive and concentrated – not only in the morning in the course but also in the afternoon it never quite let us go.
I took away many personal impressions from Italy, such as the visit to the agricultural school. Touristically, I found the visit to Assisi particularly impressive.
What impressed you most during the course?
The dedication of the team. You always got a well-founded and, above all, super friendly answer at any time.
I was totally impressed how quickly and straightforwardly we got into conversation and joint work with the Portuguese partners after just a few hours and the application was essentially ready at the end of the workshop week in Italy.
Many thanks to the network partners for their commitment and feedback!