Which questions, suggestions and examples do the participants bring to the MOOC? What challenges do they see in mobility projects and what kind of solutions? The German and English MOOC are supervised by accredited mobility consultant Sabine Röhrig-Mahhou (Wisamar educational institute). Here she summarizes her experiences and impressions.
Tips for the application
Some participants have already gained experience with the accreditation process under the new Erasmus+ program. According to their feedback, the effort for an application for accreditation is quite high, especially since internal arrangements and preparations in the applying institution are unavoidable in order to be able to incorporate all required information and detailed planning. Specifically, one participant advises that the first project outline ("My project idea") "can be a personal and individual collection of ideas or also the result of an Erasmus team meeting of several teachers involved". Another participant advises not to exaggerate regarding the plans in the application: "Remember that everything you describe in your application you will have to fulfil and carry out all the promised activities. Be realistic in your plans and keep the focus on your needs." I also find the tip to share and consult with other institutions very helpful: "I then brought in an experienced external partner as a sparring partner while writing the application."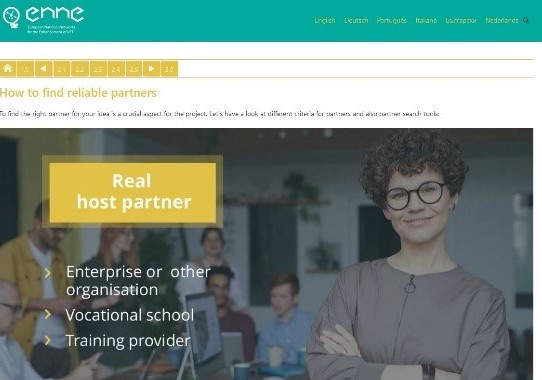 Finding project partners
Finding the right European partners is an essential factor for the successful implementation of a project – and a real challenge. One participant reports that in his experience the search for partners takes a lot of time. "Often you don't even get a response to inquiries. Even if you have clarified all the important points with a partner you have found in advance, it is not guaranteed that the organisation will then work out." Another participant refers here to eTwinnings: "The protected platform enables registered teachers to post a contact request or to view the contact requests of other colleagues. A similar, non-protected contact exchange is provided by the europe direct information centers in Germany." 
Small panorama: Participants promote their region
Sometimes when looking for a partner, it is also worth looking at regions that may not be the most obvious at first glance. In the MOOC, participants are invited to change their perspective a little. They are asked what makes their region interesting for a mobility project and which industries can be found there. Did you know, for example, that Guimarães is called the "birthplace of Portuguese nationality", is a World Heritage Site and at the same time is located in one of the most industrialized regions of the country, the Ave Valley? That – to stay in Portugal – there is not only a lot of tourism in the Algarve, but also numerous multimedia and IT companies? It's a similar story in Burgas, on Bulgaria's Black Sea coast, where a vocational school for this sector was created specifically to counteract the shortage of skilled workers. Did you know that in the "green heart of Italy", in Umbria, the clothing industry is very strong, especially with cashmere products? Or that the "Alte Land", a region in Germany, is home to the largest fruit production in Northern Europe? These are just a few examples – in chapter 4.1 of our MOOC you will find more exciting and perhaps inspiring descriptions of European regions. Of course, you are welcome to add a contribution yourself.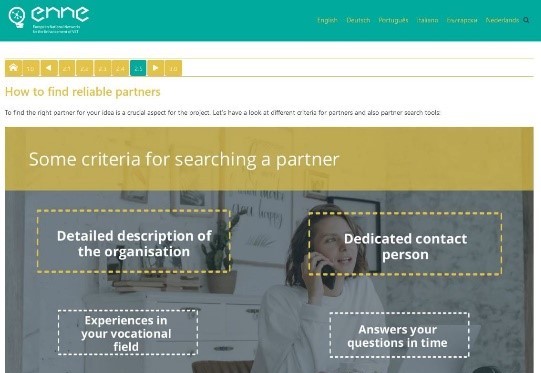 Keyword "Blended Mobility"
Digitisation in education is advancing and does not stop at mobilities, especially in times when travelling is not so easy. "Blended mobility is a nice buzzword. But what should it look like?" asks one participant. "Already today, many conversations in the application process or before arrival are held between participants and the host institution via Skype / WhatsApp …. I would be interested to know how blended mobility is implemented in other institutions." Here I can contribute our own experience: To prepare for a stay abroad, we still organise two face-to-face meetings, which are difficult to replace, especially for ECVET mobility. We are currently trying to offer further content online, e.g. for cultural preparation. We also see potential in the Monitoring-App from the IntoQuality project. 
What skills should apprentices already have?
Whether online or offline – trainees who want to participate in mobility should meet certain requirements. What are the most important competencies needed? The participants' answers to this question in the MOOC are short and to the point, but they are all primarily aimed at "soft skills", not professional knowledge: Motivation, willingness to adapt, social, linguistic and digital skills, willingness to learn, interest, willpower … are mentioned, for example. One participant points out that the criterion of social competences is subject to very different opinions. For example, learners "with good to very good social behavior would be sent to foreign partners with a clear conscience, while the learners with weaker ratings would rather not be selected out of concern for difficulties, embarrassment and the school's image." On the other hand, however, positive changes in social behavior could be sought through different environment, through the new school and living circumstances during a stay abroad.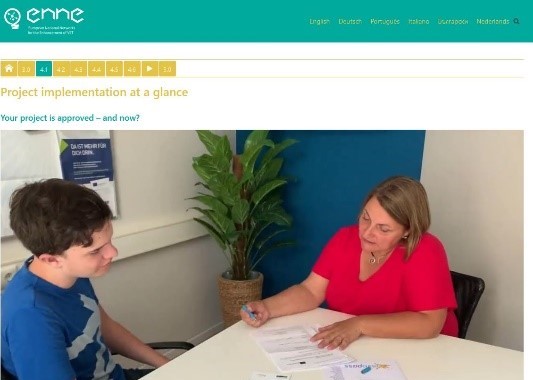 Experience with methods regarding the evaluation and assessment of learning outcomes
The participants are also asked in the MOOC about their experiences and best practices with regard to the collection and assessment of learning outcomes of trainees during a stay abroad. Here it is confirmed that a combination of different methods is very suitable: learning or reflection diaries are mentioned several times, which help learners to record, structure and reflect on their experiences and experiences. The Europass Mobility is also highly valued as a concrete tool for validation. The personal conversations and the exchange with the trainees in group discussions are also important to the participants. Here, "each of the trainees should have the right to speak and describe their experiences. This way I listen to the opinions of the trainees. This method can be combined with interviews to get a more comprehensive insight." 
It is still possible to join the ENNE MOOC and the course will also be maintained in the near future.
Simply register here: mooc.eu-mobility.eu