Sofia, the capital of Bulgaria, is one of the most ancient cities in Europe, it was inhabited since at least the 30th millennium BC. Sofia has many natural and cultural landmarks.
One of the symbols not just of Sofia but of Bulgaria itself, is the massive, awe-inspiring Alexander Nevsky Cathedral. It was built between 1882 and 1912 in memory of the 200,000 Russian soldiers who died fighting for Bulgaria's independence during the Russo-Turkish War (1877–78). In the Aleksander Nevski Crypt is Bulgaria's biggest and best collection of religious icons from the last millennium, brought from churches all over the country.
Regarded as the oldest preserved building in Sofia, the Sveti Georgi Rotunda, in the courtyard between the Sheraton Hotel and the Presidency, dates from the 4th century AD. This circular Roman structure, also known as the Church of St George, was largely rebuilt in the 6th century after being knocked about by invading Huns.
The murals inside were painted on three layers between the 10th and 14th centuries. You're also allowed to wander around the unlabelled Roman ruins behind the church.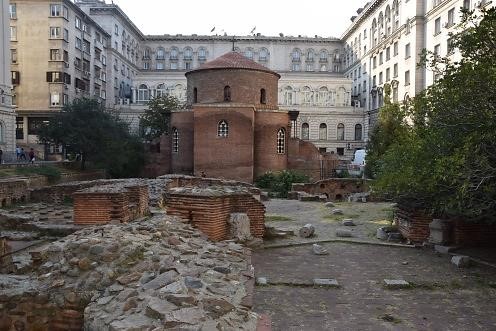 The Church of Sveta Sofia is the oldest Orthodox church in the Bulgarian capital, to which it eventually gave its name. The church fell victim to invading hordes, fires and earthquakes several times over the centuries, and after a devastating 1858 earthquake, the building, then used as a mosque, was abandoned. The present, rather sober, red-brick structure is mostly 19th century, and was restored as a church in the early 20th century.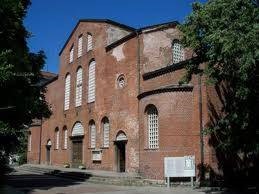 If you are interested in art, then you can visit the National Art Gallery which holds one of the country's most comprehensive collections of Bulgarian art, with several galleries full of mainly 19th and 20th century paintings and sculptures. The National Gallery for Foreign Art – Square 500, also located in the city center, hosts an eclectic assemblage of international artworks on display.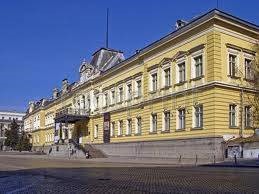 The Ivan Vazov National Theatre is Bulgaria's national theatre, as well as the oldest and most authoritative theatre in the country and one of the important landmarks of Sofia. It is located in the centre of the city, with the facade facing the City Garden.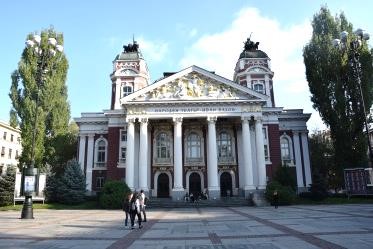 Along with the beautiful monuments, in Sofia you can find many green parks and relaxing gardens.
Borisova gradina or Knyaz-Borisova gradina is the oldest and best known park in Sofia. Its construction and arrangement began in 1884 and it is named after Bulgarian Tsar Boris III. The newest addition to the park is the Rosarium which opened in 2019 and accommodates more than 2000 roses.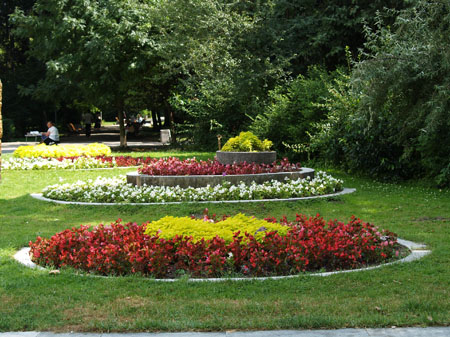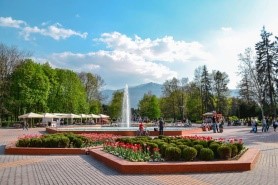 Another green park within the heart of the city is "Yuzhen park" (translates as South Park). The idea of the park was to create the illusion of an extention of Vitosha Mountain. Visitors can enjoy a stunning view of the mountain from specially designed open areas. The main entrance to the park meets the end of Vitosha Boulevard.
Shopping in Sofia
The main shopping areas in Sofia centre on Vitosha Boulvard, Graf Ignatiev Street and Rakovski Street. The Tsentralni Hali (Central Food Halls), on Maria Luisa Blvd, is a well-organised bazaar, open daily. There is also a large book market at Slaveikov square, near the National Theatre.
Souvenirs such as reproduction icons, jewellery, ceramics, wooden items, embroidered tablecloths and lace are for sale at stalls at Alexander Nevski square. Also worth investigating for souvenirs are the shops in the subway between the Central Universal Store (TSUM) and the Balkan Sheraton Hotel, the subway of the presidency and the ground-floor shop of the National Ethnographic Museum.
While in Sofia, don't forget to taste some of the Bulgarian cuisine famous dishes such as Tarator, Shkembe chorba, Musaka, Sarmi and Banitsa.
You can find useful information about tourist attractions, transportation and places to eat at the following website: www.visitsofia.bg
For upcoming events in Sofia you can check the municipal calendar: www.sofia.bg
Upcoming festivals are announced here: fest-bg.com