Burgas is situated on the Black Sea, in the south-eastern part of the country. It is the fourth largest city in Bulgaria and is smaller and less crowded than other big city on Bulgarian Black Sea – Varna. The climate here is temperately continental with a distinct impact from the Black Sea. 
Burgas has a relaxed atmosphere with good shopping and an abundance of restaurants and outdoor cafes.The Sea Park is situated on a high shore, all of it cut by flowerbeds, trees and sculptures. Within the park, there is a casino, a small zoo and an open-air theatre.
The central beach is situated below the Sea Park, a beautiful forked staircase in verdure leads to the beach. The city has a northern beach, too, close to the Izgrev Quarter, adjacent to the salt mines.
Burgas is Bulgaria`s largest port and this is the primary focus of the city, but Bourgas is not only an important industrial centre – it has also considerable resources for tourism. The favourable geographical location and advanced transport infrastructure of Bourgass are good prerequisites for the development of tourism and trade.
The city is a starting point for visiting the seaside resorts in the area – Sunny Beach resort, the town of Nessebar, The Elenite holiday village, etc. to the north and The Dyuni holiday village, Sozopol, Kiten, Lozenets and others, to the south.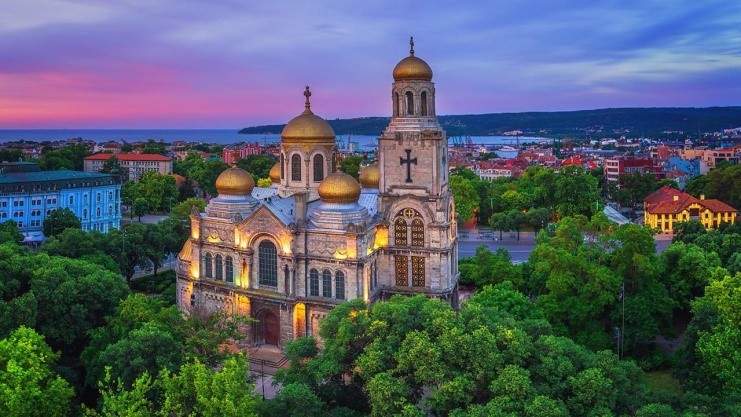 The city of Varna is located in North-East Bulgaria. It is third largest city after Sofia and Plovdiv and is called Bulgaria`s Sea Capital. The gem of the Bulgarian Black Sea is situated at the end of the big Varna Bay, with a convenient and well conserved water area a port wich in years handles up to 18 million tons of cargo. Nowadays it is the main port for both naval and commercial shipping and, adjacent as it is to the coastal resorts of Constantine and Helena (Druzhba), Riviera, Golden Sands, and Albena, it has a cosmopolitan atmosphere. Sailors on shore-leave in unfamiliar ceremonial uniforms, mingle with foreign tourists and locals as they promenade along shady boulevards, lined by dignified 19th and early 20th century buildings. The city`s peculiar sea charm is sublime and moving. Ancient, medival, renaissance and modern cultures mingle and coexist through the city.
The city is clean and green. Of the green miracles at least three are a must: the Marine Gardens which are the largest in the Balkans; Euxinograd park, the former Royal Palace; the paradise of St.Constantine.
Varna is a city of old culture, living traditions and ambitious undertakings. Some 20 per cent of its population are students in various educational institutions, four of which are higher.